"Starting a new chapter in my life, a better start than I have ever had before."

LeeAnne – Expecting Mother
Provided Security Deposit Support
Background
Michael Oles – our founder, president, and author of Help the Homeless OFF THE STREETS One Person at a Time – is a retired U.S. Air Force Colonel with over 34 years of experience as a volunteer and coordinator working with the homeless. Another member, Joe Simons, is the Chairman of the Board and Coordination Director for the Connecticut chapters. Now retired from IBM, Joe also has over 34 years of experience both as a volunteer and coordinator working with the homeless.
The life-changing event for Oles happened when he saw a homeless man on a cold winter's night in one of the local Connecticut shelters give up his bed to a homeless woman. "The only possession he had was a bed, and he gave it away. That was a total eye-opener for me," Oles said. Later, Oles, with another homeless person, spoke to students at a local school about homelessness. The students were inspired to take action, raising money for the homeless person to get off the streets. The students' generosity and energy struck Oles, pushing him to action. "Students have great idealism, and often as adults we lose that. They pushed me to do more," he explained.
Soon afterwards, Oles founded the original chapter in Danbury in 2009. Currently, there are five other chapters: Bridgeport, CT (this chapter, 2014); Lancaster, PA (2014); Huntington Beach, CA (2015); Susquehanna Valley, PA (2016); and Wenatchee Valley, WA (2019).
Mission & Overview
To Help the Homeless Off The Streets, One-Person-at-a-Time. Off The Streets Bridgeport (OTSB) provides support to the homeless and those at risk of becoming homeless in the Bridgeport, Connecticut – Fairfield County area. Operating with:
100% volunteers – no paid staff
No Office Space
95% of funding goes directly to supporting the homeless
No financial reliance on federal, state, or local government funds
How OTS Helps
Security Deposit Assistance
OTSB provides security deposit assistance for the prospective homeless individual or family. The payment is made directly to the landlord. OTSB, with assistance from local social services, conducts a financial review of each prospective client to verify that a stable income or subsidy is available to pay the monthly rent. The review ensures a successful transition for the client as they enter an exciting new chapter in their lives providing hope for a better future.
Furniture & Household Items
Furniture and household items are donated to OTSB. The donated items are good quality used goods that are provided to the homeless for the asking. Items include kitchenware, mattresses, blankets, dressers, tables, lamps, and other essential household items.
Goals and Evaluation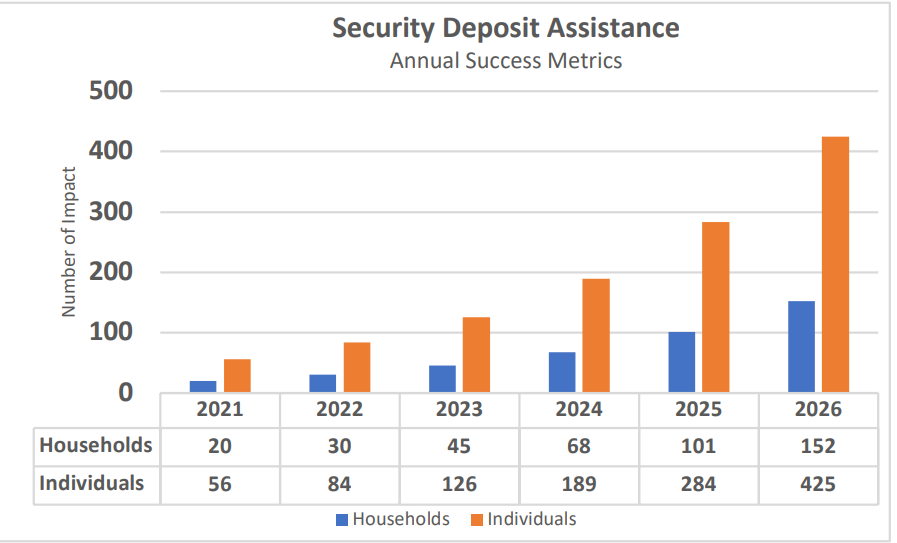 OTSB strives to increase its impact by preventing homelessness and providing security deposit support to those in need. Preserving one of the most important pillars of a community, a home. To evaluate its success and impact, OTSB has established the following goals:
50% annual growth

– Increase the number of security deposits provided annually through 2026

Reduce

the number of homeless and near homeless.
Establish a sustainable, recurring revenue stream in support of the OTSB mission to house the homeless one-person-at-a-time.

30% increase in awareness

of the need to substantially reduce the homeless and near homeless population in Bridgeport and Fairfield County. This will be evaluated through an increase in Facebook followers, search engine views, fundraising events, Channel 12 News broadcast features and website visits.