"[OTS] came through at a time when no one else would help and all hope was lost. If it wasn't for your organization, my two children and I probably would still be homeless bouncing from house to house while I try to save every penny…I am forever grateful and thankful for your help during the difficult time my family experiences…Thank you soooo much!!!"
"We would have never been able to get the apartment without the security deposit you provided…The girls are very happy to have their room again and they don't have to share with their mommy. Thank you for all you do with helping people get 'Off The Streets'."
"You have no idea how grateful we are that you have been kind enough to help us get a fresh start. Thank you from the bottom of my heart! You have truly been a blessing."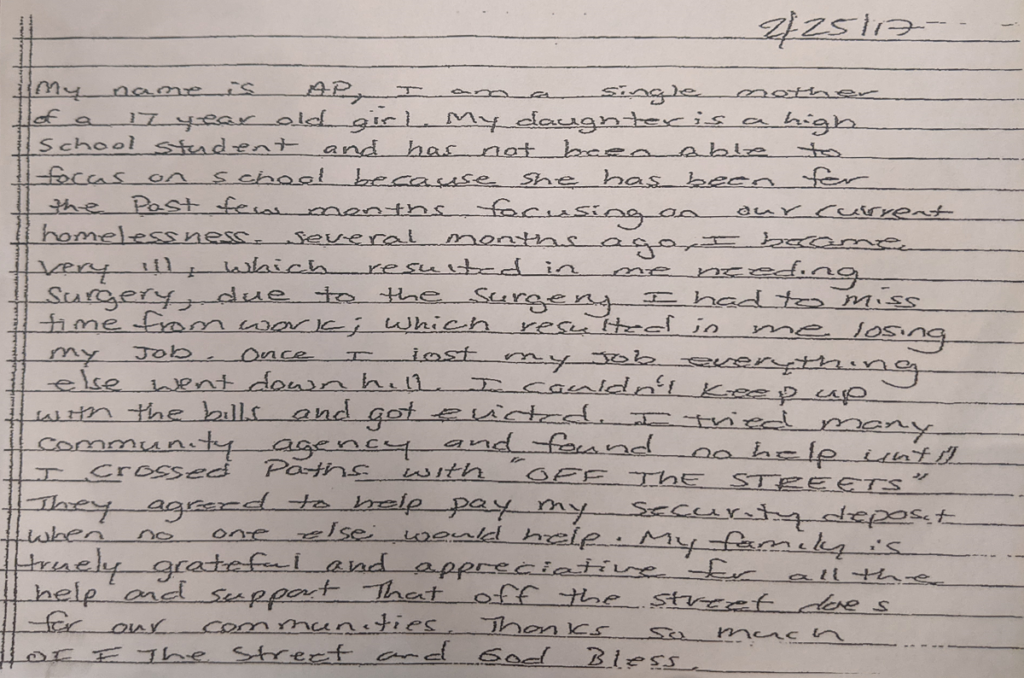 LeeAnne's Story

Off the Streets Bridgeport's first success story features LeeAnne. OTS Bridgeport recently provided furniture to LeeAnne, an expecting mother who needed basic furnishings for her home.
Melissa's Story

OTS Bridgeport was in West Haven, CT giving a landlord the security deposit for an apartment for Melissa. Melissa is a U.S. Veteran who had been housed in women's veteran housing in Bridgeport. Melissa needed an apartment near the VA Hospital in West Haven so she could get to her treatments. She was very happy and here is her thank you.
Prospect House's Story

OTS Bridgeport delivered furniture and household goods to five new Prospect House residents in January 2015. Javier, Steve, Roberta, Nitasha, and Francisco were appreciative and happy to receive the basic, but necessary, household items that OTS Bridgeport delivered. Here are their stories.